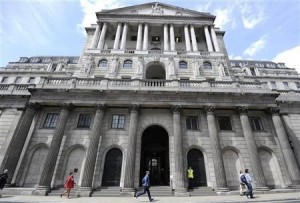 Non-EU banks operating in the UK could face tougher regulations and restrictions in order to prevent a repeat of the 2008 financial crisis. The Bank of England hopes to establish new rules forcing non-EU banks to establish subsidiaries in the UK if they wish to take deposits.
This would allow the banks to be regulated by the UK government under the PRA – the Prudential Regulatory Authority. Banks that do not take deposits from the public are classified as independent branches and are subject to different, less extensive, rules regarding conducting business in the UK.
The Bank of England hopes that the new rules will attract Chinese banks, which will operate under the branch system. This could play a major role in making London a worldwide trading hub for the yuan currency.
Prudential Regulatory Authority deputy governor Andrew Bailey spoke to the BBC about the proposals for new regulations: "We are much more comfortable if branches from overseas are conducting wholesale business, that is things like trade finance."
"We are much less comfortable if they are taking deposits from the retail market in the UK and that is born out of difficult experiences we had in the height of the crisis."
The PRA's concern is justified due to issues Britain faced during the 2008 crisis over compensation for UK-based deposit holders. The government compensated deposit holders when Iceland's banking system collapsed, and is now suing the Icelandic government for a reimbursement of its money.
The branch rules would require banks to have a home supervisor and indicate that, in the event of another financial crisis, they could be wound up with a limited impact on the UK's financial health. Mr Bailey believes that the regulations will prevent high risk banks from operating in the UK financial services market.