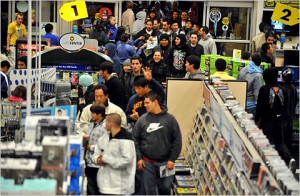 Consumer confidence is on the rise in the United States. With the US housing market starting to stabilize, people are increasing their spending on consumer products and previously dormant factories are ramping up production.
Supply Management Chicago Inc. released its latest regional factory barometer – an industry-wide measure of production. Its rating had increased from 59.6 in January to 59.8, indicating that manufacturing is on the rise across the US as consumers add more products to their monthly shopping lists.
Household sentiment also increased slightly, although overall economic growth in the fourth quarter of the year was slower than had previously been estimated by many economists.
John Silvia, chief economist at Wells Fargo Securities, noted that the weaker growth doesn't necessarily mean that 2014 will be a poor year. Quite the opposite, he noted, saying: "2014 is going to be a much better year than 2013."
The United States isn't the only economy to pull itself out of the crisis and return to a period of reasonable growth. Japan – a country that has struggled with more than a decade of sluggish growth – is increasingly showing signs of increased inflation and improved economic performance.
Japanese industrial production increased at the highest rate since 2011, a new study confirms, and consumer prices rose at the highest rate in the last five years. Many of Europe's largest economies have experienced reasonable increases in production, with inflation in the Eurozone exceeding analysts' expectations in February.
Economists had not predicted the surprising growth in the Chicago manufacturing index. A recent Bloomberg survey of 53 economists predicted that the index would fall to 56.4. The index, like the Purchasing Managers' Index, uses a 0-100 scale to indicate economic stability – ratings of exactly 50 – growth, or recession.