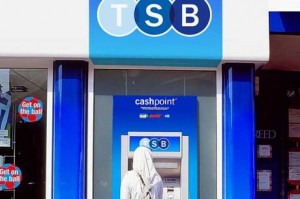 A new survey from MoneySavingExpert.com has revealed Britain's best and worst banks for customer service. The poll, which surveyed close to 9,000 people, reveals that First Direct – a frequent favourite in customer service polls – is Britain's most popular bank among customers.
92 per cent of First Direct's customers rated its customer service as "great". Internet and phone-based First Direct has topped the website's survey every year since their polling began in 2008. The bank's policies, which include £100 bonuses for people that open new 1st Accounts, have contributed to its popularity with customers.
Santander came in second place with 74 per cent of customers reporting its service to be "great". The well-known Spanish bank has climbed from last place to second – a significant achievement over the survey's five-year history. Other top performers included Co-op, Nationwide and Halifax.
The UK's worst bank for customer service is TSB, according to the survey. Just 37 per cent of the bank's customers rated its service as "great", with an alarming 20% of customers rating its service as "poor". The bank split from Lloyds last year and has since experienced some growing pains as it establishes its services.
TSB chief executive Paul Pester claims that he was "not surprised" so many of the bank's customers had given TSB a poor rating. The chief executive noted that he would also be upset, given the "well-publicised failure" of Lloyds and the serious issues that customers have had to deal with during the creation of TSB.
TSB reappeared as an independent brand in September, after it was split from the failed Lloyds Banking Group. Customers have been affected by a number of glitches and issues in the past months, including being "locked out" of online accounts and website stability problems.