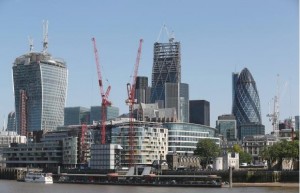 London's skyline could be changed forever as a huge number of skyscraper projects enter the pipeline. An incredible 236 high-rise towers are either under construction or planned for construction in the city right now, leading to what expects believe is going to be the biggest reshaping of London's skyline in over 300 years.
The city has, of course, undergone another transformation. During the 1960s, new housing developments, many of which were in excess of 20 storeys, were built to provide accommodation for London's growing population. Many have since been torn down or labelled as eyesores by London's residential community.
While the 1960s construction boom was driven by increased demand for housing and government-backed programmes, the current high-rise construction boom is being pushed forward by private developers. Over 80 per cent of the 236 towers planned for London will include private apartments.
The construction boom could result in a permanent change to London's skyline as hundreds of tall buildings pop up both in the city and its suburbs. The majority of the towers are planned for areas such as Tower Hamlets, which will be the location of 23 per cent of London's proposed high-rise construction projects.
Other areas to be targeted by developers include Lambeth, which is the location of 13 per cent of the proposed developments, and central London. Famous architect Sir David Chipperfield criticised the plans to 'Manhattanise' London, claiming that idea of "what the city should look like" seems to have been abandoned.
Several of the developments have attracted criticism from Londoners due to their 'exclusive' sales process targeted at foreign investors. Some properties will only be offered to foreign investors off-plan, with London locals only allowed to purchase after investors have had a chance to purchase property in the developments.