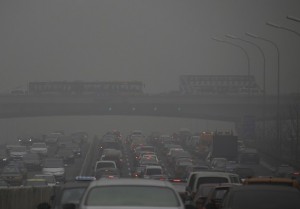 Japanese consumer electronics manufacturer Panasonic has become one of the first companies to offer its employees in China 'air quality' pay. The company will give its China-based employees a premium to compensate for the health effects of Mainland China's massive pollution problem.
While Panasonic isn't the only company to offer hardship pay to its employees sent overseas, it is one of the only major firms to specify that employees will receive pay bonuses for dealing with China's pollution. The country's severe smog problem has been a frustration for many expatriates working in major Chinese cities.
The Chinese government has committed to waging a "war on pollution" in order to improve public health and better market China as a tourist destination. Premier Li Keqiang stated that China would commit to improving its air quality during his speech at this year's National People's Congress.
Air pollution in cities such as Beijing often reaches 15 times the maximum safe level advised by the World Health Organization. Expatriates based in China have voiced their complaints regarding the country's questionable air quality online, and many employees selected for positions in China have been reluctant to relocate due to the air quality.
The country's large manufacturing sector, a dependence on fossil fuels for energy, and a significant increase in the number of Chinese people owning their own cars have all contributed to China's worrying pollution problem. Car sales continue to increase in China as the country's middle class population expands.
Panasonic is not the only Japanese firm to offer additional pay to its employee this month. Three of Japan's largest automotive companies – Honda, Nissan and Toyota – all announced rises to employee base pay. Their actions may have been motivated by Prime Minister Shinzo Abe's calls to raise compensation in order to fight Japan's deflation problem and contribute to economic growth.