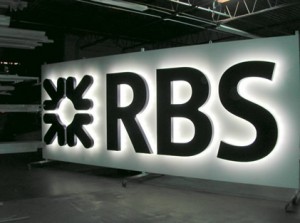 Thousands of Royal Bank of Scotland staff could lose their jobs as the Edinburgh-based bank plans another round of cuts. Approximately 40,000 RBS workers have already been made redundant as the bank, which was bailed out by taxpayers in 2008, plans a £1 billion cost cutting programme to return to profitability.
Royal Bank of Scotland was bailed out during the 2008 financial crisis using over £45 billion in taxpayers' money. The bank's current cost-to-income ratio is 65 per cent – a figure that chief executive Ross McEwan wants to reduce to 50 per cent as the bank aims to reduce its operating costs to increase profits.
RBS's current operating costs are £10.06 billion. The planned cost cutting measures could save the bank as much as £1.25 billion per year. Salaries currently account for more than half of RBS's annual costs. Staff at the Edinburgh-based financial services company are preparing for what could be a swift dismissal.
Chief executive Ross McEwan presided over significant cuts to expenditures during his leadership role with the Commonwealth Bank of Australia. Analysts believe his goals include reducing RBS's overseas commitments and automating large amounts of its retail banking business within the UK.
Royal Bank of Scotland avoided a government division last year, when lawmakers and political leaders sought to divide the bank into two – a "good bank" and a "bad bank" – to improve its ability to lend to British businesses. The bank plans to split off £38 billion in high-risk loans to a new division.
Analysts believe that RBS will produce a significant loss during 2014 due to its new plan to split off its 'toxic investments'. RBS plans to write off around £4.5 billion in high-risk loans, releasing as much as £11 billion in capital. The bank has not made any comments on the speculated job cuts.