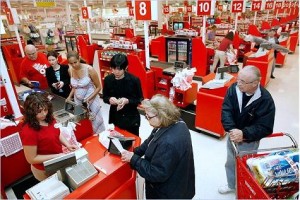 American politicians are calling for an investigation into the recent breach of online security at major retail chain Target. The well-known US retailer faces 11 lawsuits in the wake of a major security breach that revealed the credit card details of upwards of 40 million customers
The 11 lawsuits have been filed by customers believed to have been affected by the credit card break-in. They are currently all seeking to become class-action lawsuits, which would open the retail giant up to the possibility of significant damages paid out to customers affected by the security breach.
Hackers targeted Target's computer network using advanced malware – malicious software that records computer data – that was installed on the checkout PCs in a variety of Target outlets. Investigators are still uncertain of how the software made its way onto Target's checkout computer systems.
The software allowed thieves to access the checkout computers and steal credit card information from the estimated 40 million customers that shopped at Target during the three-week period in which computers were infected. Customers that shopped in one of Target's outlets from the 27th of November until the 15th of December may have had their credit card details stolen by the criminal gang.
Legal experts believe that, should one of the cases be given class-action status, the well-known American retail chain could face millions of claims made by plaintiffs affected by the security breach. Responding to the case, several banks have placed strict limits on account holders' credit cards to prevent illegal spending.
Target has offered a free credit monitoring service to customers affected by the PC hacking. Computer crime experts believe that many of the credit cards have already been offered for sale on online marketplaces and used in fraudulent transactions by thieves.