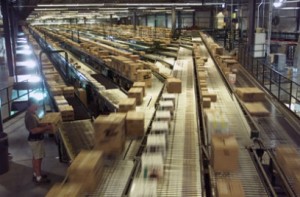 Wal-Mart is launching a new campaign to bring manufacturing careers back into the United States. The company, which is the world's biggest retailer, is looking for ways to 'drive investment in American manufacturing' and bring jobs back to the USA.
The company recently look part in a two-day conference aimed at finding new ways to increase US-based manufacturing activity. Wal-Mart's US CEO, Bill Simon, believes that the US could regain thousands of manufacturing jobs that have moved overseas.
Wal-Mart, as well as many other retailers that depend on foreign manufacturers, has been affected by rising labour costs in manufacturing centres such as China and low energy prices that make US-based manufacturing a more realistic possibility.
The company claims that it is committed to bringing new jobs to the US, but many of its critics believe that the push for US-based manufacturing is simply a PR campaign aimed at improving Wal-Mart's image.
The company, which employs over 2.2 million people around the world in its retail stores and processing facilities, has focused on offering the lowest possible prices for a wide variety of retail products.
Critics of the company claim that its own strategy depends on easy access to cheap manufacturing in other countries, and that Wal-Mart is one of the primary reasons so many American jobs have been moved overseas.
American manufacturing has been on the decline for over three decades, with what was once a focused decline in automotive manufacturing extending to a wide range of other economic sectors and industries.
With unemployment on the rise in many parts of the United States and labour costs increasing in countries such as China, a variety of US-based companies are looking at the realities of bringing manufacturing jobs back to US-based factories.