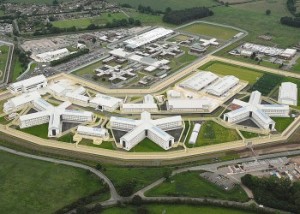 A West Midlands prison is giving its inmates the chance to practice their sales skills while serving their time. HMP Oakwood, located close to Wolverhampton, has let its inmates participate in marketing research for several insurance companies.
The project is part of a pilot scheme conducted by the Ministry of Justice aimed at giving prisoners new skills while in prison. A Ministry of Justice spokesperson has claimed that the scheme will be expanded if its current trial is a success.
The scheme is designed to prepare inmates for a working life once their sentence is completed. The Ministry of Justice believes that the scheme will decrease the chance of inmates reoffending when they are released from the facility.
While academics and criminal rehabilitation commentators have praised the call centre scheme, others have expressed concerns that the system could give many prisoners access to sensitive information on the people that they call.
The workers are contracted out to insurance firms and take part in a wide range of market research activities over the phone. Critics of the scheme claim that it allows prisoners, many of them on serious charges, access to callers' personal information.
The Ministry of Justice, however, has noted that the scheme does not involve giving any sensitive information to inmates. Workers are connected to callers through an automated computer and do not learn any personal information about people.
Workers are also risk assessed to ensure that potential reoffenders and violent or dangerous criminals are not put on the line with research participants. The scheme is supported by the Prison Reform Trust, which believes it develops useful skills.
The scheme, which has been harshly criticised by the Centre for Crime Prevention, is currently limited to two West Midlands prisons. If it is a success, it could be scaled to work with a number of the nation's largest prisons.