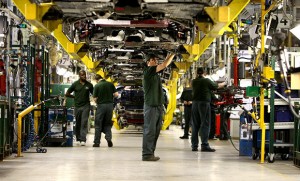 UK manufacturing is expanding at the fastest rate in two years, according to a new survey by the Confederation of British Industry (CBI). The lobby group's report is one of several signals that Britain's manufacturing sector, which has struggled with limited orders over the past two years, is on the way back up the economic ladder.
The CBI report indicates that 25 percent of British manufacturing firms saw their total sales increase during July and August. This was matched by 25 percent of UK manufacturers indicating that their orders had declined during the month.
While the figures, which come to a round zero percent, may not seem particularly impressive, they're a significant improvement over the -8 percent net balance that analysts had anticipated.
They're also the highest figures on record since April of 2011, putting the sector in its best shape for two years. Export figures are also improving for many of the UK's top manufacturing firms and export-driven companies.
10 percent of participants in the 400-firm survey reported that their international orders had increased over the past month. Despite this, 25 percent listed a reduced level of exports, putting the total export balance at -7 percent for the month.
Again, despite the negative balance, the figure puts the export-driven manufacturing sector in its best position since June of 2012. Analysts believe that growing demand from overseas buyers will lead to a gradual improvement in the net export balance.
The manufacturers that benefited the most from Britain's recovering economy were primarily small businesses. Metal and electrical products saw their growth balances increase to 51 percent, while building materials grew to 49 percent.
Over 25 percent of manufacturers also reported that they expect sales to increase in the next three months, up from six percent in previous surveys. The data suggests a bright future for the UK's once struggling manufacturing sector.