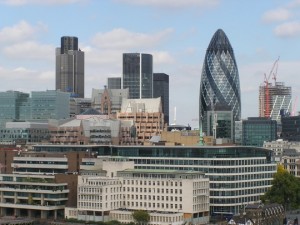 A growing number of UK service companies are reporting record high exports. The service sector has been heralded by analysts as leading the UK's economic recovery as the expert of services continues to increase. Between April and June, the balance of exports for services increase to 36 percent – matching its record level in 1989.
The increase in services exports was supported by a boost in the UK manufacturing sector, which has experienced a recent increase in production that puts it at a level that matches its peak performance in 2011. The increase in both sectors has lead to an overall increase in employment, profitability, and overall business confidence.
UK economic performance has increased throughout the year, with the service and manufacturing sectors leading the country's recovery. Q1 saw a slight boost in the balance of trade for most export-based sectors, with Q2 improving prospects for a long-term economic recovery.
Other leading UK sectors include construction, which has seen strong growth levels in the last twelve months as the UK's real estate industry continues to recover. The real estate industry has benefited from an increased level of interest in purchasing property, particularly in key areas such as London and England's South East.
The export data has been provided by the British Chambers of Commerce in a recent quarterly economic survey. BCC chief economist David Kern claims that the surge in recent exports indicates that the UK's economic is 'slowly strengthening' and could eventually return to its former level of overall health.
He added that the services sector is 'increasing its trade surplus over time' and that the nation could 'see quarterly GDP growth of 0.6 percent' if the trend continues. UK firms could benefit from a 'truly enterprise-friendly economy,' says John Longworth, the BCC's director general.