Online money transfer companies have surged in popularity in recent years as the advancements in technology made it possible for young upstart companies to beat banks at their own game. The COVID-19 pandemic catalyzed an industry already in growth mode as many consumers had no choice but to seek out digital alternatives for the first time.
Recent customer additions are likely to remain satisfied long-term customers as the best currency transfer brokers in the UK offer consumers better rates and faster speed. Yet despite recent gains, the majority of people continue to overlook money transfer companies in favor of their High Street banks.
Here is a four-step guide on how to find the best money transfer companies that serve the UK and global customers.
Step 1: Understand What Money Transfer Companies Do
Money transfer companies exchange one currency for another and remit the foreign funds to the intended recipient. The service is not meant for people or enterprises that are transferring pounds among each other as there already convenient options. For example, paying a friend via Faster Payment has risen in popularity over the years.
Some of the more common reasons why someone would use a money transfer service include:
Sending money to family or friends in Asia.
Buying a second home or retirement property in Europe.
Paying for unique memorability or antiques from the Middle East.
Remitting funds to workers or freelance employees in the United States.
Investing in an Australian business.
Buying raw materials from a Canadian manufacturer.
Step 2: Understand The Process
Banks always charge customers a commission on the real-time exchange rate, known commonly in the industry as the spread. The spread ranges anywhere from 1.5% to 3%, depending on the destination and other factors.
The process often leads to consumer frustration as the exchange rate they see online is short of what the bank uses. For example, someone sending £500 to a friend in Tokyo can see the real-time exchange rate on their smartphone and expect the recipient to receive 72,279 yen.
Instead, the bank teller informs the customer the recipient will receive just 70,833 yen. The difference between the real rate and bank rate is the equivalent of around £10 and this money, on top of a separate fixed fee for the transfer, goes straight to the bank's coffers.
Fortunately, consumers have an alternative option at their disposal. The best money transfer companies are able to offer an exchange rate that is very close to the real-time or mid-market rate. The use of smart technology and hundreds of inter-linked bank accounts all over the world makes this possible.
Reverting back to our example above, if someone sends £500 to a recipient in Japan via one of the many money transfer companies in the process, they would expect to receive an amount very close, if not equal to 72,279 yen, minus a small fee of around 0.5%.
A lot of technology is in place behind the scenes to ensure a fair transaction. The online money transfer company expects to match the pound-to-yen transaction with other users sending money in the opposite direction.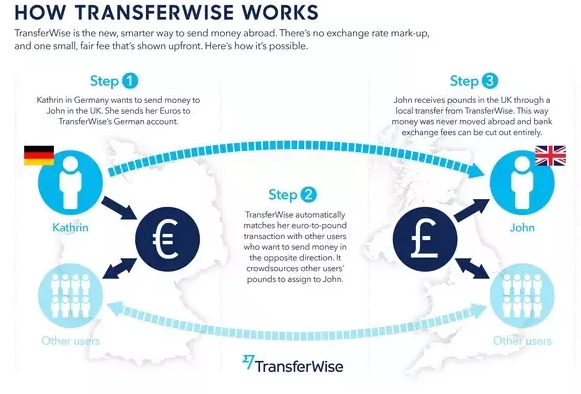 The best money transfer companies cater to customers of all sizes. However, wealthy individuals and enterprises that transfer in excess of millions of pounds annually could qualify for discounted fees. If this is applicable to you, be sure to inquire with each company to learn about the best fee possible.
Step 3: Do You Need Any Additional Products Or Services?
Most if not all of the best money transfer companies offer a level of service that satisfies basic transactions. In some cases, a customer needs a lot more than just the ability to exchange money and transfer it to a recipient.
One of the more common requests from both individuals and enterprises is for a money transfer company to offer forward contracts. Simply put, a forward contract is an agreement where a customer can exchange money on a certain date at a fixed rate.
This would be especially useful for large transactions, such as buying property overseas.
Suppose you want to buy a house in France that sells for 2 million euros. At the current exchange rate, this translates to around 1.75 million pounds. But if the pound loses 5% in value by the time it takes for the real estate transaction to close, the same property will now cost around 1.84 million pounds.
Buying a forward contract will eliminate the risks associated with currency fluctuation. Not all money transfer companies provide this service so if it is important to you or your enterprise, be sure to select one that excels at offering forwards.
Step 4: Complete Your Research
Having gone over the basic steps in understanding what a money transfer company does, now is the time to start research individual companies. Money transfer companies compete with each other across multiple categories, including customer service, fees, ease of use, transaction time, and many other factors.
Be sure to read reviews of all money transfer companies you want to learn more about. Spend some time browsing their website to ensure a company offers all the products and solutions you might need. If in doubt, call up the company to ask questions.
These are widely considered 10 of the best money transfer companies in 2021:
Currencies Direct
Currency Solutions
CurrencyFair
Global Reach
HiFX
MoneyCorp
Payoneer
TorFX
TransferWise
World First