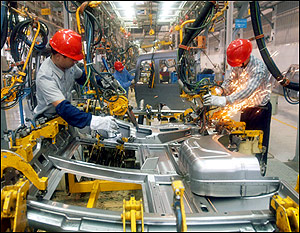 As China's leaders take steps to reinvigorate the country's economy, analysts were surprised to learn that the Chinese economy grew by 7.4% in the last quarter. The figure is above expectations, as many analysts predicted a major slowdown in the country's growth rate.
The Chinese government set growth targets of 7.5% last year, but recent setbacks to the manufacturing giant's economy have led many in the Chinese finance industry to take a more cautious approach to economic forecasting. While the 7.4% expansion is below 2013's average, it remains a good sign for the Chinese economy.
Chinese retail sales increased by 12.2% in the last month, indicating strong growth in the country's domestic economy. China's leadership has been trying to reduce its dependence on international trade and bolster its economic performance through increased consumer spending.
A slowdown in China's economy could have far-reaching consequences. Many of the other countries in the region export vital commodities to China, many of which are used by the country's huge base of manufacturers. Poor Chinese economic growth could negatively affect many of the country's regional economic partners.
Beijing has taken several steps to improve growth in recent months. A tax break for China's small companies has been linked to a steady level of commerce during the Lunar New Year holiday, which is typically a period of sluggish performance. The country has also increased its infrastructure spending to assist large companies.
The Chinese government has also instituted international trade and finance deals, such as a cross-border stock investment scheme with Hong Kong. The scheme will make it easier for Hong Kong investors to access the Chinese market, and will begin near the end of the year.
A new free-trade zone near Shanghai has also been launched, and China's leadership has allowed manufacturing of gaming consoles by foreign firms. The new zone gives some of the world's largest consumer electronics companies access to China after a 14-year ban on gaming console production.