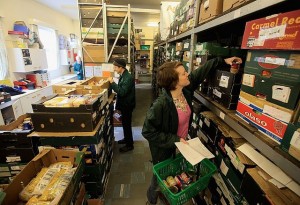 Food bank charity The Trussell Trust says it's feeding almost three times as many people in 2014 than in the last year. Since April of last year, the food bank charity has handed out over 913,000 food parcels – an increase of almost 350,000 in the previous 12 months alone.
The charity, which tries to stay out of politics, has attributed the massive increase in the number of people it's feeding to a combination of benefit payment delays, recent welfare reforms, and a rising cost of living. The government has denied that welfare reforms implemented in the last year have resulted in greater food bank usage.
According to the charity, more than 30% of its visitors were forced to visit the food bank after their welfare payments were delayed. More than 20% of food bank users claim that their income simply isn't sufficient to cover their living costs. More than 900,000 individuals received emergency food parcels in the past year alone.
Of those, more than 30% were return visitors, many of whom have applied for relief from the government but are uncertain when their benefits will begin. Activists have noted that the full number of people going hungry in the UK may be even higher, as many people are simply too ashamed to visit food banks for assistance.
Although food bank charities claim that visits have increased since welfare reforms took place last year, the government denies a link between welfare and the increase in food bank dependence. A spokesperson for the Department of Work and Pensions claims that there is "no robust evidence" linking food banks to welfare reforms.
The spokesperson also noted that benefits payments were now almost always made within the 16-day target time, and that just eight per cent of benefits payments were delayed. Food bank administrators claim that factors such as payment sanctions had resulted in a surge in the number of people requiring food parcels.