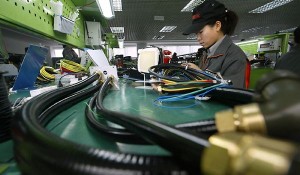 The Chinese economy faces additional roadblocks to sustained growth in the form of a slowing manufacturing sector, according to new data from the HSBC Purchasing Managers Index.
The PMI reading for March measured just 48.1, compared to a 48.5 reading during February of this year. A PMI reading of less than 50 indicates that contraction – the decline of manufacturing output – is occurring, while a reading of more than 50 is evidence of manufacturing growth.
Although HSBC's monitoring activity in China primarily records small and medium-sized business activity in the private sector, analysts believe it could indicate a long-term slowdown in China's valuable manufacturing sector. Official PMI data from the Chinese government will be released towards the end of the month.
China has recently taken steps to improve its economic growth in the face of falling manufacturing figures. The Chinese government hopes to increase domestic sales and encourage consumers to spend more. The country, which has previously been very dependent on exports, "needs to develop its own consumption economy."
While China's official Purchasing Managers Index reading of 50.2 still indicates that growth is occurring, it is an eight-month low for a historically robust and massively growth-focused economy. Total Chinese exports dropped 18 per cent in the last 12 months, resulting in a £23 billion trade deficit during February of 2014 alone.
Economists believe that China may fail to achieve its ambitious 7.5 per cent growth targets for 2014, which were set by Premier Li Keqiang at the government's annual National People's Congress at the beginning of March. Keqiang noted that there was some "flexibility" regarding the country's economic goals for 2014.
China's main priority remains jobs, and its commitment to growth is focused around the development of an internal consumption economy. Economists are awaiting the results of China's official PMI survey for March, which tracks the output of larger, state-owned manufacturing companies.