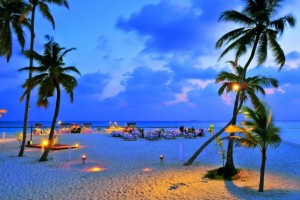 The Maldives, a tropical archipelago in the Indian Ocean, is attracting an incredible amount of foreign investment from Saudi Arabia. Earlier this year, the Crown Price of Saudi Arabia, Salman bin Abdulaziz al-Saud, booked three islands in the country for almost an entire month, frustrating many would-be holidaymakers.
The Prince's long-term visit is one symbolic example of Saudi industry's interests in the Maldives. The small country, which has historically generated most of its income from tourism, is attracting a new wave of attention from many of the Middle East's most wealthy and powerful investors.
Prince Salman's visit wasn't entirely for the purpose of leisure. The prince, who is also Saudi Arabia's minister of defence, made an official visit to the island nation at the request of President Abdulla Yameen. The Maldivian president was elected at the end of 2013 after two years of turbulent political protests.
Last year, Saudi Arabia promised a five-year soft loan facility worth over £300m to the tiny country, as part of a deal made by the Maldives' previous president during an official visit to the Saudi Arabian capital of Riyadh. In coming months, air links between the two countries will open for the first time in history.
As part of the two countries' development plan, the Saudi prince plans to build at least 10 world-class mosque throughout the island archipelago. Saudi Arabia and the Maldives both share a religion – Sunni Islam – making the island country what seems like a perfect destination for tourists from Saudi Arabia.
Despite the surge in foreign investment from Saudi Arabia, investors from many of the Western countries have warned others not to become involved in the Maldives due to large-scale nationalisation activity. Widespread human rights violations are also a major concern for would-be investors.
Expatriates, who make up over 30 per cent of the Maldives' population, have been targets of abuse and discrimination, claims British journalist J J Robinson.