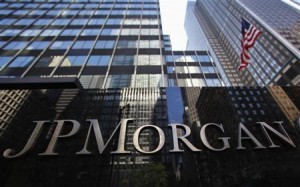 The banks responsible for the 2007 financial crisis have paid out over $100 billion in fines, according to a new report in the Financial Times. The fines were paid out for a variety of pre-crisis "mistakes" ranging from issuing bad loans to borrowers unable to repay them to manipulating interbank borrowing rates such as Libor.
Recent payments include an $885 million fine paid by Credit Suisse to American regulatory agency the Federal Housing Finance Agency. The payment results in a staggering $99.5 billion paid out by financial institutions since the financial crisis occurred in 2007 and 2008.
More than half of the financial services industry fines were paid in 2013, with a total of $52 billion paid to the United States treasury throughout the year. $32 billion was paid by leading financial institutions to the Treasury during 2012, up from less than five billion dollar a year earlier.
Not all banks were subject to equal fines. JP Morgan, considered the 'ringleader' of several irresponsible lending and investment programmes, was fined a staggering $13 billion. Other banks to be heavily fined by US regulators included Citigroup and Bank of America.
While critics of the banks welcomed the heavy fines, others worried that fines alone were not enough to influence large institutions with such incredible assets. Stanford University professional Anat Admati believes that many of the banks targeted by the regulators will view the fines as a "cost of doing business".
Economists believe that banks could face further fines as investigations into pre and post-crisis lending activity continues. Many of the penalties and investigations were launched by the Commodity Futures Trading Commission. Political commentators believe they represent a change in regulatory attitudes towards the main US banks and the beginning of "punishment" for the banks' role in the financial crisis.