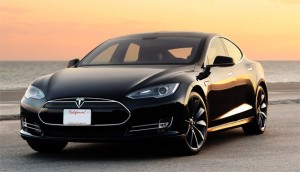 Much to the surprise of Wall Street analysts, California-based electric car company Tesla Motors announced a second-quarter profit. The company has been a leader in electric car manufacturing for some time, but has so far failed to impress Wall Street with its limited revenue and lack of a proven business model.
This quarter's results, however, could change all of that. Tesla Motors announced an operating profit of $26 million in the last quarter, beating analysts' expectations and impressing much of the industry. The announcement fuelled a surge in Tesla's share price that sent the company's value to well over $151.25 per share.
While enthusiasts may know every aspect of Tesla's line-up, most people know of its famous Tesla Roadster – one of the first electric sports cars. The Roadster is a high-performance vehicle designed to operate solely on electricity. Despite its fame, it's not the car propelling Tesla to its current operating profit.
Most of Tesla's recent income can be attributed to sales of its Model S – a hatchback that's more versatile than its Roadster. The car sold in record numbers over the last quarter, leading Tesla to achieve a $26 million profit alongside $750 in cash. Tesla's also one of the few US-based motoring firms to have absolutely no government debt.
Despite the fantastic operating profit, Tesla's overall income was in the negative for the second quarter. The company lost a total of $30.5 million during the quarter due to operating costs, but analysts and investors were quick to point out that compared to the previous quarter's results – a $105 million loss – the company is moving on.
In order to achieve profitability, the company will be focusing on reducing its costs and streamlining production over the coming quarter. Tesla will also redesign some elements of its Model S to increase the vehicle's appeal to motorists.