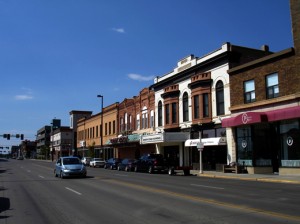 Ask anyone about America's most upwardly mobile cities and you'll likely hear them name major coastal cities such as Los Angeles, New York City, and San Francisco. As major commercial centres and former industrial leaders, these cities often feature prominently in the Horatio Alger-style upwardly mobile American image.
Today, however, some of the United States' centres of opportunity aren't found in the coastal areas that once held most of the country's wealth. The five cities at the top of the upward mobility list, in fact, are located as far from the country's coastal areas as possible.
In 2013, all of America's most economically viable places to grow rich can be found in the Midwest – a region that, historically, was known for its modest career choices and limited means to acquire wealth. Bismarck, North Dakota came first on the list for 2013's fastest-growing cities, with Dubuque, Iowa shortly behind it.
The other five most upwardly mobile cities in the United States include Mankato and Fergus Falls, both in Minnesota. St. Cloud, also located in Minnesota, rounded out the top five cities, with residents expected to reach the 51st percentile in earnings within the next 30 years.
The bottom five cities for upward economic mobility are located in the Mid-Atlantic and Southeast regions. Mississippi, North Carolina, and Tennessee were home to the least upwardly mobile cities, with limited job opportunities shrinking the potential for young people to access higher salaries.
While the current cities may clash with the New York and California-driven image of past American growth, they show a new economic reality. While America's coastline was home to its biggest opportunities several decades ago, today's greatest chances at economic improvement can be found in resource-driven states in the Midwest.