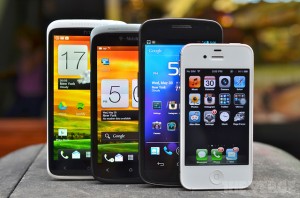 In an effort to reduce the processing time for cheques, British banks will soon begin to accept photos of cheques sent in from smartphones. The Treasury announced the change to banking processes on Thursday, but claimed that cheques are not being 'phased out' in favour of new technology.
The change in process will cut the amount of time required to bank a cheque from six days to five, according to the Treasury. The change is part of a long-term effort designed to speed up cheque payments for consumers and businesses. Chancellor George Osborne will be involved in legislation aimed at further decreasing the time required for cheque processing over the next year.
UK banks are not breaking any new ground in moving to phone-based photos for their cheque services. American bank JP Morgan Chase has offered customers the ability to send in cheques via phone since 2010, with rivals Bank of America and Citibank following suit over the next year.
In America, the service has succeeded with relatively few security issues, indicating its potential for success in the UK. British laws state that banks reserve the right to see cheques in person, especially cheques from a different bank, before they can be honoured as genuine.
Many UK banks are welcoming the change, stating that it will improve operations and efficiency for both banks and consumers. Barclays' managing director Steven Roberts compared the new technology to downloadable movies, stating that when consumers can "download a film in seconds" they should be able to "deposit their cheques in the same way."
Despite the new technology's popularity with banks, the move has raised eyebrows from concerned consumers. The banking industry previously announced its plans to phase out cheques by October 2018, but was pushed back by the Treasury due to a large amount of negative feedback from the public.