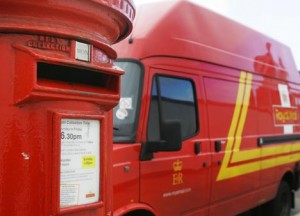 The Royal Mail has received a warning from regulator Ofcom after missing targets and failing to deliver letters on time. The service reportedly missed its 93 per cent target for first-class deliveries, making just 91.7 per cent of next-day deliveries on schedule.
Ofcom claims that Royal Mail could be fined if it continues to miss its delivery and service targets. The Royal Mail was privatised last month, with a 60% stake in the company sold on the London Stock Exchange. The company's private ownership is, according to Ofcom, a positive signal for its financial stability.
As well as failing to live up to its next-day delivery goals, Royal Mail reportedly also missed its delivery targets for several postcode areas across the UK. The company failed to reach its target 91.5% delivery rate for first class mail in all UK postcodes, reaching its target delivery goal in just 62% of UK postcodes.
Despite the failure to achieve its first class mail goals, the Royal Mail was successful in reaching its second class mail targets. The company delivered 98.5 per cent of its second class letters within three days of postage, and achieved an 86% satisfaction rate with its customers.
Responding to the Ofcom criticism, a spokesperson for the Royal Mail said: "We are disappointed that we didn't meet all of the regulatory quality of service targets we were required to last year. This remains a key area of focus for us."
Satisfaction amongst Royal Mail customers is strong, with 86% of people that use the postal service approving of its service. The company has committed to helping its customers and improving its offerings, claiming that it is "focused on continual improvement in the service [it] provides for customers."