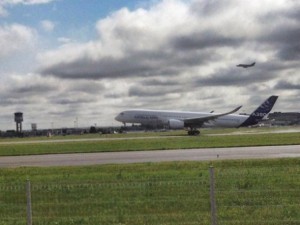 French aviation company Airbus's latest test model, the A350, completed a maiden flight on Friday morning. The latest aircraft boasts incredible fuel efficiency and is designed to compete with rival firm Boeing's 787 Dreamliner.
An increasing number of airlines are being affected by the rising cost of fuel, with profit margins decreasing as aviation fuel begins to take up a larger percentage of their operating budget. Airbus's latest model aims to reduce fuel usage by as much as 25 percent through innovative design features and fuel-efficient engines.
The latest Airbus is powered by Rolls-Royce Trent XWB engines, which allow it to operate while using 25 percent less fuel than similar aircraft. The reduction in fuel usage will allow airlines to achieve a significant saving, the aviation company claims.
The A350 appears to be a hit amongst commercial airlines, with over 600 orders for the aircraft already made. Airbus aims to compete with Boeing's Dreamliner, which has achieved phenomenal sales figures, with 890 aircraft already shipped.
While Boeing's aircraft has been a success amongst commercial airlines, the aircraft was delayed due to safety concerns during its production. Air safety regulators were concerned about the craft's batteries, which caught fire several times during flights.
One of the A350's greatest strengths is its reduced weight, which has been achieved by substituting heavy metal panels for panels made from composite materials. The lightweight design is one of the biggest factors in the A350's great fuel efficiency.
Marketed as a high quality aircraft with lower-than-normal operating costs, the new Airbus A350 could be a major asset for airlines struggling with rising fuel costs. The aircraft will begin to be shipped to customers in early 2014, although delays could significant increase the amount of time required for the aircraft to enter production.