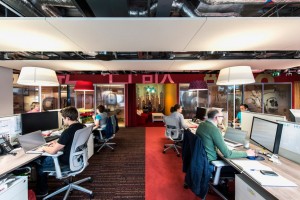 Despite its rapid growth and current dominance of search, Google has a problem: it can't seem to retain its employees. The Bay Area technology company boasts one of the industry's finest campuses and some of its best salaries, but its employees seem to leave the trendsetting technology company as soon as they arrive.
Read a Google employee handbook and you'll be impressed by the perks. Staff are free to enjoy five-star food at work, benefit from some of the best health insurance available, and attend free yoga classes after work. Mothers are given five months of maternity leave, and 84 percent of employees report being satisfied with their jobs.
Despite this, the average Google employee spends just one year at the company. The search giant, which has boasted a 90 percent market share for several years, has one of the highest turnover rates in Silicon Valley, with young employees leaving for new opportunities as quickly as they walk through the door.
Part of Google's problem is undoubtedly the age of its workforce – unlike other Bay Area firms, which look for long-term employees interested in growing alongside the company – Google tends to hire young professionals. The median age for Google is just 29 years – a point at which many professionals tend to 'career hop.'
Other tech firms have similar figures regarding turnover, although few are as bad as Google. Yahoo pays its employees over $107,000 per year on average, yet retains its talent for just 2.4 years. In other industries, figures are better – ExxonMobil holds on for 6.5 years on average, due to its significantly older workforce.
Despite its incredible staff turnover rate, Google continues to dominate search. The company, however, may want to take a look at its lucrative benefits and think about whether they're really having that much of an effect on employee retention.