When you need to get a fast loan, you might be considering getting a payday loan, but to get the money that you need, a car title loan will be a better opinion for you.
For fast money emergency needs, you can use the equity that you have in your vehicle, the lender will use the wholesale value of your vehicle to determine how much money you can get, they might use the NADA, to find out your car value.
What Are Car Title Loans?
Car title loans have been around since the 1990s, they are popular because you can use the equity that you have in your vehicle to get fast money.
If you have poor credit, it can be difficult to get a traditional bank loan, but with title loans, they will approve you for a dollar amount based on your car's equity.
Most companies will do credit checks, but the approval will not be based on your credit score, but on your ability to repay the loan and the equity amount.
Finding A Title Loan Company
There are many title loan companies, so it can be difficult to know which company will be the right one for you.
It is important that you search for the lowest interest rate, as the rate will vary from lender to lender. Also, you want to find one that has longer terms, with no prepayment penalties.
Companies that offer 24 to 36-month loan terms can offer you much lower payments that a 30-day title loan, with a balloon payment.
Title loans with balloon payments and rollovers are too expensive, and it would be best to stay away from them.
Make sure that you choose a company that offers amortization with your monthly payments, so your payments will also lower your principal balance, and not just pay for your interest.
Make sure when you are looking for a title loan company that they are in compliance with the Consumer Financial Protection Bureau.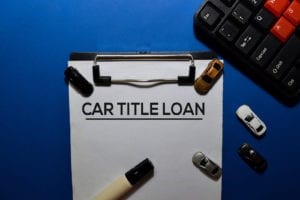 Fast Funding
Car title loans will offer you fast funding, when you are shopping for yours, you need to ask how long it will take to get the money.
Some companies will offer you same-day title loans, some can take a few days, so it is important to ask the company how long the funding takes.
With car title loans, you can get much more money than getting a payday loan, and the interest rates are lower too.
Keep Driving Your Car
With car title loans, you will be able to continue to drive your vehicle, all you have to do is to give the finance company your car title, they will add their name to the title as the lienholder at theDMV.
You will be making your monthly title loan payments while paying down your loan. Car title loans are also different from auto pawn loans. With auto pawn loans you do not get to keep and drive your car.
There are plenty of companies to choose from, but be careful, as title loans are expensive, so choosing the wrong company can be difficult to get out of.
Make sure that you choose a company that the monthly payments will fit within your budget, remember, if you cannot make your monthly payments, you might lose your car.