Any new motorist to the road will be incredibly excited to get behind the wheel of their first vehicle and this will be an auto-mobile that you will always cherish. It will be an enormous investment and it can be difficult to know where to turn to get a good deal on a high-quality vehicle.
It is also increasingly expensive to procure and operate a car in the current climate, however, with even standard MOT inspections cost as much as £55.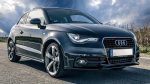 The majority of motorists will immediately look for a used car (which is certainly a good option), of course, but you could also consider leasing a new vehicle. Here are the financial implications of both options: –
Buying a Used Car
Purchasing a used car can be a very smart investment, provided that you find a high-quality vehicle. You should always be able to find a quality vehicle that is within your budget due to the sheer amount of dealerships and cars being sold, but it may take time to find what you are looking for.
The primary concern that motorists face when purchasing second-hand is that the vehicle has a hidden past or it will require costly repairs. This is why you must give the car a thorough inspection and get a mechanic to provide their assessment. You can check the history by obtaining a vehicle history report (these can be acquired with the number plate). To guarantee that you are driving away with a reliable and safe vehicle, you should always shop through recognised online car-buying platforms, like AA Cars.
Leasing a New Auto-mobile
Leasing is a fantastic option as it enables you to spread the cost of driving a new vehicle through fixed monthly installments (typically over 24 to 36 months). At the end of the agreement, you return the auto-mobile and can then arrange a lease on a newer model. If you like the idea of driving a brand new car every few years, leasing is an excellent choice. You also do not have to worry about depreciation as you do not own the vehicle.
Leasing is likely to be the more expensive option in the long run, but you do not have to pay a huge sum upfront and you could also benefit from newer cars having lower running costs. You may even be able to lease an auto-mobile that is exempt from car tax as many newer models meet the reduced carbon emission targets.
Deciding between these two options can be difficult and it will come down to personal preference. If you want to own a vehicle, you are not concerned about driving new cars and you take the time to research, then a second-hand model will be best. Those that want to spread out payment and have the luxury of driving something new every few years should consider leasing.