Throughout 2016, the property market in the UK was hindered by a chronic shortage of houses that sent price points soaring. With the issue far from resolved, it has therefore come as something of a surprise that house prices declined by 0.9% in January, as this suggests that the market may at least be achieving some form of equilibrium.
While the market remains in a state of uncertainty, it is crucial that you operate strategically and in way that optimises your financial circumstance. If you're looking to either buy or sell a property, for example, you might want to look at using a property auction rather than just heading to the nearest estate agent, as this delivers a number of applicable benefits in the current climate.
This approach works in the same way as any other auction, but the lots put up for sale are a variety of different residential or commercial properties.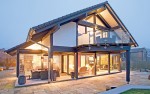 As the title of this post suggests, whether you're buying or selling, a property auction can be quite beneficial for you. Read on to find out more: –
The Selling Benefits
For those of you looking to sell a property, you can make the most of these benefits:
You can have your property listed and sold in a very short time-frame; ideal for those who need a fast sale

You can also set a reserve to help make sure you get the price you want for your sale

When your property is sold, you don't need to worry about chains, or the buyers backing out. This is because once the gavel is struck the sale is agreed

Auctioneers can often provide guidance and advice surrounding pricing, fees and how you can get the best price for your property

If your property is not initially sold, you can then negotiate with bidders on the day
The Buying Benefits
Many of the benefits of buying at auction have similarities with the above, but these include:
You don't have to wait for long chains and completion processes, you bid on the day on the property you want

You may find you purchase a house or building for bargain price

There can often be a wide variety of properties on offer, meaning you may find something better at the auction
Where Can I find One?
You don't need to look far to find a property auction. These are held all over the country and can often be specific to a certain area or location and can be for either a mix of listings, or just for commercial or residential sales.
With this, it pays to do a little research on what's available near you and what lots are going to be sold, this way you can make sure that either your property is in the right auction, or you attend the property auction that's right for your needs.
So, in your future property endeavours make sure you give this a try and potential realise some of the many benefits that are on offer.