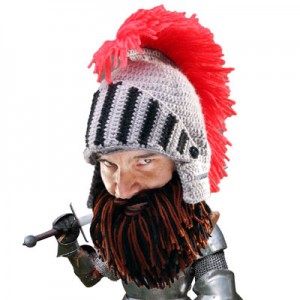 BeardHead is a company that's certainly not afraid to innovate.  The cutting edge novelty hat brand has recently announced they've stepped into the future and are now proudly accepting Bitcoin as one of their payment options.  Customers have responded with quick enthusiasm.
BeardHead and Bitcoin now go hand in hand with the former becoming the first Hats merchant to accept bitcoin payments in UK.  BeardHead UK, the originators in bearded, comfortable hand that not only keep a face warm, but also always inspires smiles and conversations, recently announced that their popular online store now accepts Bitcoin as a payment option.(prfire)  With Bitcoin becoming a currency used more and more often by online insiders, many of whom requested to check out with Bitcoin on BeardHead.co.uk, the new addition to payment option makes perfect sense and both the company and their customers are excited by the development.
"Stay toastie, keep warm and remain fashionable with BeardHead Hats," commented a spokesperson from the company.  "And now when you place an order you can even pay in Bitcoin if you like.  It doesn't get much better than that!"
According to the company, they offer many popular BeardHead designs including:  The Trapper Classic; Bushy Duke; Stubble Bumper; and the always hot selling Barbarian Knight.
BeardHead Hats are perfect for skiing, snowboarding, other cold weather fun and for inspiring smiles and attention from interesting people.  Their unique design keeps almost the entire face warm, from head to beard and looks absolutely great in the process.
Customers just can't get enough of the brand according to their passionate feedback.
Ian S., from London, recently said, "I first saw a BeardHead skiing in America, and I couldn't have been happier when I found the UK end of the company here.  Now I own four hats and I love them all.  And girls do to.  Stay warm and turn heads at the same time!  What could be better?"
For more information be sure to visit https://www.beardhead.co.uk.