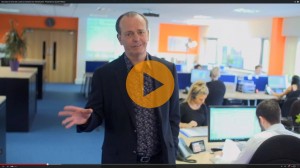 TV motoring expert and former Top Gear presenter Quentin Willson has taken a bold step to revolutionise the used car warranty market with his service and maintenance plan from Warrantywise. His campaign is kicked off by an informative and educational video release of 'Quentin Willson's Guide to Being Warrantywise'. In it, Quentin goes through the world of car warranty meticulously, outlining the dos and don'ts in his own unique and familiar style.
He says: "Too many warranty policies have furlongs of exclusion clauses, slippery wording and glacial customer service. They may look cheap, and that's usually for a reason.
"A good used car warranty has clear definitions, no weasel words and a dedicated customer service team which gets back to you within a day or sooner. And that's exactly what you get with Warrantywise. Clear definitions, fast service and no slippery words."
Quentin says that, uniquely, Warrantywise publishes exactly how much is pays out to customers every week on its website. The company pays out in 80 per cent of cases and has a 92% customer satisfaction rating.
He goes on to say: "I am the person who has designed and written this warranty and I have painstakingly gone through it to make sure it is clear, transparent and easy to understand."
And he promised: "If you've got a problem or an issue or if there's something you don't understand about your claim you can email me directly and I will personally get involved and sort things out.
"I am also the person who decides whether complicated, difficult or marginal claims get paid. The buck stops with me."
The guide has been put together to give the customer an invaluable insight in to having a car warranty, whilst dispelling any doubts or uncertainties the customer may have in regard to achieving that all important peace of mind. Quentin Willson is incredibly passionate about customer satisfaction and finished with this important insight:
"When it comes to my car warranty I am usually asked the same questions. Is it any good? Does it pay out? Is it really me? I believe it is vital that we put these reservations to bed. Warrantywise is quite simply the best on the market and its scores of happy customers (www.warrantywise.co.uk/happy) are testament to its quality, transparency and above all, reliability. I wouldn't put my name to something that didn't deliver and that's why the Warrantywise warranty has 'The Quentin Willson Promise', so you can rest assured that you will be covered when your car has a problem. This excellent video goes far and above in explaining used car warranties to our customer base, new and old, and I am incredibly proud of the outcome."
The video guide can be found on the Warrantywise website (http://www.warrantywise.co.uk/choose-us/) and on the company's YouTube channel (https://www.youtube.com/watch?v=8tgUW9iGCdM&feature=youtu.be)
Take a look!