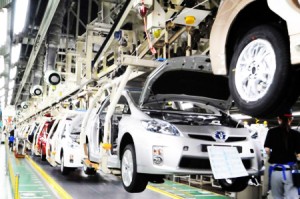 Japanese Prime Minister Shinzo Abe has been praised for its 'Abenomics' economics program, which has been credited with reducing deflation across Japan and creating new jobs in the manufacturing sector. However, weak exports have widened Japan's trade deficit, creating new problems for the economics-focused prime minister.
The widening of the trade deficit comes after the recent introduction of a new sales tax, designed to increase government revenue and reduce sovereign debt. Despite a 6.5 per cent median estimate for export growth, Japan's exports grew by just 1.8 per cent, with the total value of imported goods increasing by more than 18 per cent.
The massive rise in imports results in the largest trade deficit in recent history. The total value of Japanese exports declined by the greatest amount since last June, with many economists predicting that the poor export figures could lead to an economic contraction this quarter.
Some analysts have pointed to the recently introduced sales tax as the cause of the wide export gap, noting that Japanese consumers are more likely to buy imported products prior to the tax rise. This belief is confirmed by Ministry of Finance data confirming a 'spending spree' in the lead up to the April 1st sales tax increase.
Compounding the effects of the 'spending spree' is the effect of Japanese companies selling their products domestically prior to the sales tax increase. Senior economist Hiroaki Muto, of Sumitomo Mitsui Asset Management Co., believes that this could be another cause of the widening trade deficit.
Prime Minister Shinzo Abe's economic policies have been focused on turning around deflation, which has affected Japan for more than a decade. Under his leadership, the value of the yen has declined significantly and Japanese exporters have enjoyed high profits despite the slow overall growth in exports.