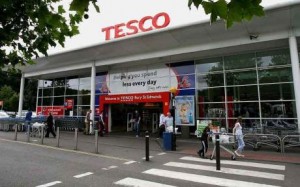 Struggling supermarket chain Tesco has hit a ten-year market share low as shoppers flock to its competitors. New data from Kantar, a market research firm, indicate that the once dominant supermarket chain now occupies just 28.7 per cent of the UK's market for groceries, down from 2.96 per cent in the last market survey.
While Tesco's performance is worrying for investors, the company isn't the only one of Britain's supermarket brands to suffer in recent years. Morrison, the UK's fourth-largest grocery chain, also saw some of its market share evaporate as shoppers in many regions switched to discount grocery chains such as Lidl and Aldi.
Tesco, as well as many of its key competitors, have been forced to cut prices in order to compete with the discount chains. Asda has also reduced its pricing and sacrificed its margins in order to recapture some of the market share it's lost to cut-price retail competitors over the past five years.
2013 was a difficult year for Tesco, with the struggling firm making several changes in order to recapture its dominant position in the UK grocery market. Tesco's chief executive Dalton Phillips walked into a business that had, at the time, struggled to adjust the growing trend of online grocery shopping and low-cost retailing.
While discount chains occupy a small section of the market, their sales growth has many of the UK's leading grocery chains very worried. Over the last year, the sales growth of Aldi grew to a record 33.5 per cent, with the chain scoring a 4.3 per cent share of the UK's retail grocery shopping market.
Rival discount grocery retailer Lidl also grew its market share, increasing from 2.8 per cent to 3.2 per cent of the UK grocery market. In order to compete with discount grocery retailers, Tesco plans to cut profit margins and conduct a thorough review of its £9 billion retail property portfolio.