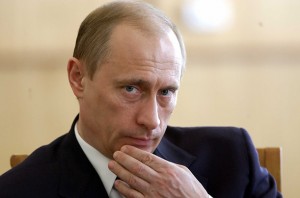 The United States is considering placing "Iran-style" sanctions on Russia due to its occupation of the Crimea peninsula. European leaders, despite criticising Russia's actions in Ukraine, are hesitant to consider sanctions due to the continent's large dependence on Russian resources and commerce.
President Obama met with his national security advisors on Monday to talk about options for restricting Russia's commerce with the United States and providing aid to the new Ukrainian government. Secretary of State John Kerry will visit Kiev as part of a diplomatic mission to Ukraine offering support for the nation.
The administration is currently weighing up the benefits and possible downsides of an asset freeze on Russian banks and account holders in the United States. The bank freeze could be accompanied by travel visa bans and economic sanctions designed to "punish" the country for its military actions in Crimea.
Russian President Vladimir Putin accepted a recent German "fact-finding mission" to the region with aims of clearing the air over the events. Currently, the Russian army, navy and air force have control of the region. Several Ukrainian ships are now under control of the Russian forces.
John Kerry threatened "disruption of trade" earlier this week during a TV interview with NBC. European leaders are less enthusiastic to place sanctions and restrictions on Russia due to the country's important role in providing gas and other natural resources to the Eurozone.
The ruble has declined in value since the Russian occupation began, with businesses and investors pulling their support for the currency and reducing their involvement with Russian businesses. Last year, the United States and Russia were involved in $40 billion worth of bilateral trade.
The Crimea crisis could be an obstacle for future economic relations between the US and Russia. Over the last five years, the two countries have increased their trade by approximately 70 per cent as the United States economy recovers from the financial crisis.