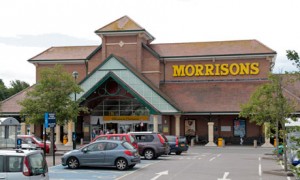 A Morrisons employee suspected of stealing and publishing the bank details of over 100,000 employees has been arrested. The payroll information was stolen from the supermarket chain's central payroll database and published online to what police believe was an attempted fraud ring.
West Yorkshire Police Detective Chief Inspector Gary Hooks said: "An employee of Morrisons has been arrested in Leeds this morning in connection with an investigation into the theft of data from the company."
The data theft couldn't have come at a worse time for the supermarket chain, which recently issued a profit warning and disclosed that it lost £176 million over the last year. In response to the warning, company shares lost 12 per cent of their value as many of Morrisons' investors withdrew their investment in the company.
In order to increase its market share and compete with low-cost competitors such as Lidl and Aldi, the company plans to reduce its prices and focus on a new section of the grocery market. Chief executive Dalton Philips will head an internal review and investigation into the recent security breach.
The digital break-in reportedly affects staff at all levels of the company, including high-level executives and board members. Morrisons reportedly noticed the data breach on Thursday of last week, shortly after it released financial information to investors detailing its poor financial performance.
The company is currently reviewing its internal security procedures. Morrisons employees voiced their frustration about the attack on social media, with many complaining about the company's inability to prevent their data from being made public.
While Morrisons notified all employees with email addresses on record, many did not receive any communication from the company regarding the security breach. A Morrisons employee complained online that their first warning of the data breach had come from a news update posted on Facebook.