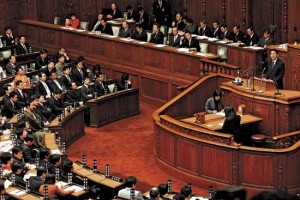 After the collapse of Mt Gox, formerly the world's largest Bitcoin exchange, Japan is considering new taxes and regulations on Bitcoin brokers. This Friday, the cabinet will discuss the future of the crypto-currency in Japan, a country that has played an instrumental role in Bitcoin's development.
The online crypto-currency was reportedly developed by Satoshi Nakamoto – an anonymous developer or group believed to be of Japanese origin. The once largest Bitcoin exchange in the world – the now bankrupt MtGox – was based in Tokyo and made the city a global capital of crypto-currency.
Japanese authorities have already decided that the country's financial institutions will not be permitted to trade Bitcoins as part of their core business. Analysts think that the online crypto-currency will eventually be traded similar to commodities such as gold and silver.
After MtGox filed for bankruptcy protection in Tokyo last week, the authorities have paid an increased level of attention to the virtual currency. Once regarded as useful online for illicit activity such as drug trading and money laundering, Bitcoin has now generated a large level of attention from investors seeking a new online currency.
However, hacking attempts and security breaches, such as the massive attack on the MtGox exchange – have revealed issues in the security of the anonymous currency. A wave of security breaches has taken down several other Bitcoin exchanges, noting the crypto-currency's potential hazards for enthusiasts and investors.
In Japan, Bitcoin transactions could eventually be taxed in order to reduce the level of speculation on the currency. Bitcoin's limited stability – its price has ranged from $3 to more than $1,000 USD in the last two years, has made it more lucrative for the tens of thousands of global speculators than for its potential users.