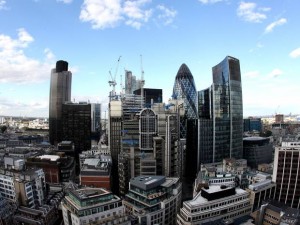 According to leading fund managers, the City of London could lose its position as Europe's most important financial centre if it continues to 'hound' top investment banks over staff bonuses.
Public anger of the scale of bank bonuses has resulted in rhetoric from politicians and shareholders painting leading banks as thoughtless and unconcerned with the needs of the public.
Recent targets have included Barclays, which has the largest domestic investment banking operation in Britain. The bank was criticised by shareholders for its large bonus payouts to executives after its recent profits fell below expectations.
Industry leaders believe that the negative approach to banking could make it tough for London to maintain its position as the leader of European finance. The City UK chairman Gerry Grimstone noted the importance of London staying on top of the European investment banking industry.
Speaking to The Sunday Telegraph, Grimstone, who is also the chairman of Standard Life, said: "If Britain wants to be part of the global financial services sector it has to have the people within it that can run these businesses."
"It is very, very important that London is one of the investment banking centres of the world."
Barclays' response to the recent criticism included an announcement that, should it want to, the company could relocate its British investment banking division to New York City in order to avoid criticism in London.
Director of investment at Royal London Asset Management, Robert Talbut, also has fears that anti-banking attitudes could make London a difficult place for investment banks to do business.
"If ultimately Barclays take the view that the regulatory and political pressure is going to continue unremittingly that [relocating to New York] could be the right thing to do."
He continued: "We need to be very careful we don't accidentally drive the business out of London."