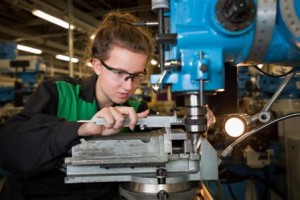 Manufacturers across the UK back Chancellor George Osborne's vision of "a Britain that makes things again", according to a new article in The Guardian that profiles a West Midlands manufacturer specialising in machine tools for aerospace, oil and defence firms.
BSA Machine Tools is one of many examples of declining British industry. Just over 40 years ago, the company employed a full-time staff of about 14,000 people. Today, its workforce is made up of just 38 full-time workers. Despite the long-term decline in output, its owners are optimistic that British manufacturing is on the rise.
Over the past two years, the company has taken on four apprentices, creating a new atmosphere of confidence in the economy. However, despite the company's limited recent success, it has been forced to deal with a problem that many other British manufacturers can relate to: a nationwide shortage of apprentices.
As UK manufacturing declined over the past 40 years, the number of young people entering apprenticeships dropped at a massive speed. Although exports have shot upwards in recent months, many UK manufacturers face supply limits due to small workforces that simply can't produce enough goods for export.
In the case of BSA Machine Tools, the company believes that despite its recent UK-based workforce growth, outsourcing to low-tech markets such as China will be an important part of its business model in the future. Interestingly, many of the firms' target sales markets include the growing Chinese consumer class.
Despite the shortage of skilled workers, manufacturers in Britain have a lot to be optimistic about. Recent changes to energy tax policy mean that manufacturers in the UK will have a steady carbon tax for the next 12 years, and strong exports are driving growth that – despite labour issues – is pushing up industrial profits.