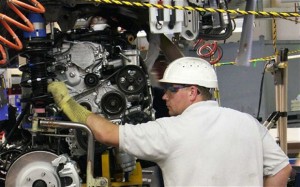 UK companies are hiring staff at a record pace as the economy recovers. New data from the latest Markit/CIPS purchasing managers' index (PMI) showed that despite small declines in overall industrial production, UK firms are hiring more people than at any point in the last 16 years.
Companies across the country have reported strong sales growth in the last quarter despite severe weather conditions across much of Britain. The latest PMI index was 58.2, indicating a strong – albeit slightly lower than average – level of growth across the UK's manufacturers.
Optimism about the country's economic future is at its highest level in almost five years, with more manufacturers reporting strong sales projects than at any point in recent history. The rate of jobs growth is the highest in the PMI's history. The index has been collecting data on job and manufacturing growth since January 1998.
Chris Williamson, Markit's chief economist, says that there's "no end in sight" and that the economic good news could continue for some time. He believes that recent economic performance is even more impressive given the difficult weather across the country that caused heavy flooding throughout much of February.
Williamson said: "With business confidence in the services economy rising, growth should pick up again in March, adding conviction to the growing consensus that the economy is set for its best year of growth since 2007, with the rate easily surpassing the 1.8 per cent expansion seen last year."
The services sector has experienced strong growth, with companies likely to hire more staff in the coming year. Just five per cent of the businesses polled think that 2014 will be a worse year than 2013, with an astonishing 54 per cent predicting an increase in activity during the year.
A Reuters poll also revealed that economists believe the UK economy will grow 0.6 per cent each quarter in 2014, further cementing the confidence of economic growth throughout the UK.