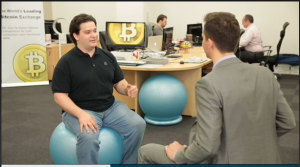 Tokyo-based Bitcoin exchange MtGox has shut down its website after several weeks of suspended trading. The website, originally launched as a trading platform for card games, was the world's largest Bitcoin exchange, processing hundreds of thousands of transactions per day.
The online crypto-currency has had an interesting year, reaching peak values well in excess of $1,000 per coin. But hacking issues at MtGox and security vulnerabilities in the online crypto-currency's code have reduced Bitcoin's value substantially over the past few months.
MtGox's website now directs users to an empty page while the company's Twitter account has been cleared of all activity. Chief executive Mark Karpeles has been the target of user frustration over lost deposits after he resigned from the board of the Bitcoin Foundation – a crypto-currency charity – earlier this week.
Several other Bitcoin exchanges have commented on the MtGox issues, including the CEO and founders of rival firm Coinbase. A joint letter from several Bitcoin exchange companies was released on Monday night, detailing the "issues" that MtGox faced and outlining the company's confirmation of its difficult current situation.
The Tokyo-based company was reportedly the target of a massive hack, in which a team of hacker stole an estimated 750,000 Bitcoins. The coins, currently worth at least £200 million, were such a significant loss for the company that it was forced to close withdrawals and stop trading this month.
Bitcoin enthusiasts and speculators are fuming after a "crisis strategy document" by MtGox leaked earlier this week. The document recommends that the exchange shut its doors temporarily before re-launching as Gox.com later this year. Many users lost upwards of £1 million worth of stored Bitcoins in the company's collapse.