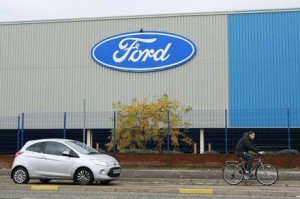 The UK is now Europe's second largest market for cars, beating out France to take second place behind Germany. Strong car sales in the UK are the result of 22 months of nonstop growth fuelled by improved economic confidence and significant payouts to consumers duped by PPI mis-selling scandals.
The Society of Motor Manufacturers and Traders (SMMT) confirmed that the total number of new cars sold increased to 2.26 million in 2013. It is now at is highest level since the beginning of the financial crisis, growing at a rate of over 11% in the last year alone.
According to the SMMT, more than 600 new cars were sold per day above the level recorded throughout 2012. Unlike other European nations, which have experienced declining automotive sales growth, the UK has been "a bright spot" in Europe, says SMMT chief executive Mike Hawes.
He believes that payouts from PPI mis-selling scandals could be fuelling part of the sales growth. Average payouts to consumers misled by the scandal of £3,000 were "enough to put a deposit down on a car", according to the SMMT chief executive.
While the strong automotive sales have been positive news for economists, some automotive industry experts believe that a surge in new car sales could affect the value of used vehicles. John Leech, from consulting group KPMG, believes that the cheap credit used for new car sales could drive used vehicle prices down.
Due to financing arrangements, many consumers purchase cars for 36 months and switch to a new model to avoid "bullet" payments at the end of their financing deal. This could lead to a build-up of three-year-old cars, according to Mr Leech, which makes a residual price crash possible.
Top-selling UK cars include the Ford Fiesta, the Ford Focus, and the Volkswagen Golf. The Vauxhall Astra and Corsa were also popular with new car buyers.