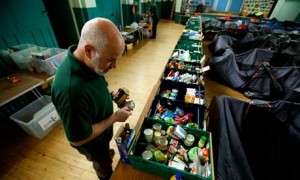 With energy prices on the rise, many clients of food banks are turning down food that requires the use of a cooker or oven. Food banks across the UK are offering a line of "kettle boxes" – containers of food that doesn't require heating – to clients that can't afford to use cookers and other kitchen equipment.
The Trussell Trust charity has started offering the boxes, which only contain food that can be prepared by adding boiling water. "Kettle boxes" typically contain Pot Noodles, instant soup, instant mashed potatoes and other meals that can be cooked with minimal ingredients and energy.
Other offerings include "cold boxes", which contain three days' worth of tinned food and products that can be eaten without requiring hot water. The boxes do not meet the trust's standard nutritional guidelines, but are offered due to the rising number of clients that simply cannot afford to pay for energy.
Over the last year, many food bank clients have turned away rice, pasta, and other offerings that needed to be heated during preparation. Many of these clients claim that they simply don't have enough credit on their electrical meters to be able to afford them, or that they had been cut off by a gas supplier due to non-payment.
Morecambe Bay food bank volunteer Annette Smith said that she was "absolutely astonished" by the problems many clients face, and that many volunteers at local food banks were "really upset" by the limited access that many families have to basic utilities such as electricity or gas.
The cold boxes offered by the charity contain items such as long-life milk, breakfast cereal, corned beef, fruit juice, peanut butter, and other long-lasting ingredients that require minimal preparation. Clients that request the cold boxes are referred to help agencies that provide financial assistance.