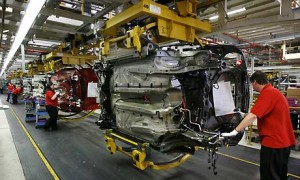 The UK's manufacturing sector is performing well, according to new information in the latest Markit/CIPS Manufacturing Purchasing Index. The index measures growth or decline in the manufacturing sector, with a measure of 50 indicating no change in output. The UK's manufacturing sector recorded 57.3 during December of 2013.
Markit noted that the figure, which is slightly below November's record high of 58.1, shows "strong growth" in the UK manufacturing sector. The sector's growth started with a strong upsurge in output towards the end of the year, with order figures at a historically high level compared to Markit's 22-year PMI survey index.
The growth in manufacturing could indicate a change in the UK economy, which has previously depended primarily on exports of professional services. Growth was high in the automotive industry, with UK car production increasing substantially during the last year.
Strong performance in the manufacturing sector has had positive effects on the job market. New unemployment data shows that the national jobless rate has declined over the past month, reaching 7.4 per cent. The current rate is the lowest on record since 2009, indicating a manufacturing-fuelled recovery in employment.
Much of the UK's manufacturing growth has been driven by markets outside of the Eurozone. Emerging markets such as Brazil and Russia have been responsible for a large amount of sales, as have larger markets such as China and the United States.
Despite the strong growth, analysts are concerned that growing inflation in the UK's manufacturing sector could lead to economic issues. CPI inflation has declined over the past year, but costs related to inputs and outputs have increased in the country's manufacturing sector.
However, many economists believe that the manufacturing price pressures will not cause any serious issues for the Bank of England. BNP Paribas economist David Tinsley notes that the trend does, however, "underline that inflation is not dead in the UK."