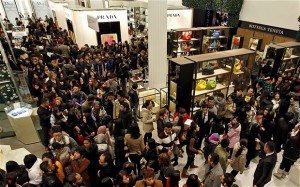 Historically, Boxing Day has been an opportunity for shoppers to fill their trolleys at exceptionally low costs, capitalising on excess inventory left over from the massive pre-Christmas retail season. Now, online shopping trends indicate that Christmas, not Boxing Day, is the season's biggest retail shopping date.
Just 27 percent of consumers plan to take part in Boxing Day sales – a figure that's, rather surprisingly, smaller than the amount of people that went online to shop on Christmas Day. A day that was historically used for watching movies with family is now becoming the UK's number one shopping opportunity.
A new survey from Barclaycard indicates that 31 per cent of British adults spend the Christmas Day holiday shopping online, searching for cut-price offers that are only available for a limited time period. Just 27 percent planned to take part in Boxing Day sales, historically the bigger consumer draw.
The surge in Christmas Day activity is due to a change in retail behaviour. Retailers previously started their Boxing Day sales, predictably, on Boxing Day. Today, many of the country's largest retailers begin their Boxing Day promotions a day early on the Internet, allowing consumers to 'get in early' by shopping on Christmas Day.
While retail experts believe that the increase in Christmas Day activity is good for both consumers and retailers, some people fear that an increased focus on bargain hunting could lead to families sacrificing the joy of Christmas for an opportunity to search for cut-price bargains on the Internet.
Online shopping has grown significantly in the past year, with a nine per cent rise in total consumer traffic for many retailers. In-store traffic, in contrast, is up by just 1.2 per cent, as many consumers order gifts for friends and relatives ahead of time via a large network of online retailers and gift shops.