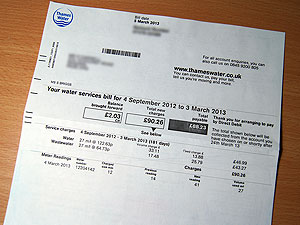 Over the last two years, British families have been put under financial pressure due to rising energy costs. The increase in pricing from major firms such as British Gas have put chief executives in the spotlight, causing British Gas owner Centrica's CEO to claim that he would "take no bonus this year."
Consumer groups and politicians alike, however, believe that the next big concern for British consumers won't be rising energy prices, but a significant increase in the cost of water. Economists believe that water prices could increase by over 5 per cent in the next year, giving the average UK household a £400+ annual bill.
Water company Thames Water was recently blocked by regulator Ofwat after it put an eight percent pricing increase on the table. The company is one of several water suppliers being targeted by regulators after rumours of a staggering five per cent price rise across the industry began to spread.
A current agreement allows water suppliers in England and Wales to implement price rises in the next year, although the extent of these price rises is limited. The firms are currently allowed to increase their prices in line with the inflation rate, plus a small additional fee.
With Barclays Bank predicting a 3.1 per cent increase in inflation this month, the cost of water could increase by as much as 5 percent under the current regulatory arrangement. UK households would be notified of pricing increases in January, as they begin to come into effect.
Economists believe that even a slight increase in the price of water could push the average UK household's annual water bill above £400 – a significant figure that is troubling consumer advocates. In contrast, the average UK wage increased by just 0.8 per cent in the same period, leading to a large gap in earnings vs. spending.