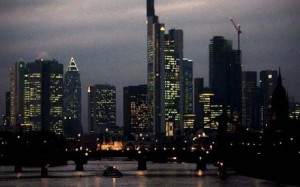 Confidence amongst German businesses improved in the last month, according to a new survey from CESifo Group Munich. The Ifo survey of business confidence is one of the Eurozone's most reliable studies of business outlook, and this month's results put German business confidence at its greatest level since April of 2012.
The index draws on survey data from over 7,000 German firms. November's results put the index at 109.3 – a significant increase from the 107.4 confidence level that was measured in October.
Official figures from the German government indicate a 0.3% quarterly growth rate during the third quarter of the year. Economists have pointed to strong demand for German products from within Germany, as well as a growing labour market and an inflation rate that's in line with economic predictions.
Domestic demand increased by 0.7 per cent, helping to fuel a significant increase in spending amongst Germans. Wages have increased relative to inflation throughout the country, giving Germany one of the strongest domestic markets in Europe. The Bundesbank believes that Germany's current level of economic growth will continue due to strong domestic spending and improving exports.
The German economy has benefited from an increase in capital investment during the last quarter. Capital investment rose by 3 per cent during the third quarter as a large variety of investors flocked to Germany's construction industry. The increases in domestic demand have compensated for declining Eurozone exports.
Economists have called for Germany's economy to be rebalanced for years, as many analysts pointed to Germany's dependence on exports as a potential hazard. Despite this, the strong growth in domestic spending indicates that the German economy is strong and resilient, and that much of the restructuring is taking place naturally.
The German government, led by Angela Merkel, believes that the economy will grow at a 0.5% pace during the final quarter of the year, and that 1.7% economy growth is possible during 2014.