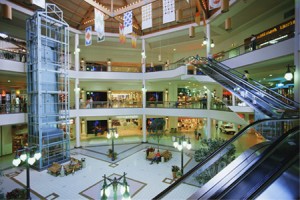 Americans are spending less at the shopping mall than normal. Statistics from the Commerce Department indicate that retail spending grew in August, but not at the rate that American economists had predicted.
US consumers spent 0.2 percent more in August than in July, beating out analysts' predictions that consumer spending would decline. Despite the growth, however, retail sales failed to meet the 0.4 percent Commerce Department growth target.
According to Markit economist Chris Williamson, the slow sales growth shows that despite improvements to consumer spending, US economic growth has followed an expectation of slowed activity during the third quarter.
American consumers are spending less on typical retail products such as clothing, but are spending more on big-ticket items. Sales of new cars, for example, rose by 0.9 percent in August after a period of slight decline during the month of July.
Sales of building supplies and gasoline also increased, indicating that rising prices and concerns over new payroll taxes aren't affecting consumers. Spending on big-ticket items, however, has been volatile and unpredictable in previous months.
The United States government pays a great deal of attention to retail spending as it's seen as an effective indicator of consumer activity. Consumer spending makes up 70 percent of total United States economic activity.
Several reasons have been given for the slower-than-expected growth, including an overly slow rate of labour market development, slow or non-existent wage growth, and concerns over the long-term economic prospects of many families.
American retailers have noted that consumers seem less confident than usual this month. August is back-to-school season in the United States, which is typically an excellent period for big-box stores and high street retailers.
Despite the slower-than-expected retail sales growth, analysts believe that retail spending is growing fast enough for the Federal Reserve to successfully lower its monthly bond purchasing without causing confidence to decline.