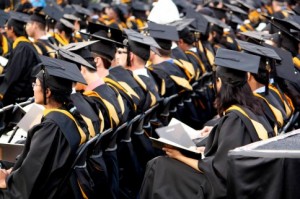 The age-old campus rumour that advanced qualifications 'price students out' of the workplace may not be as true as previously believed. According to a new report on graduate employment, postgraduates are more likely to be employed in a full-time job than people with undergraduate degrees.
The report – called 'What do graduates do?' – was compiled by the Higher Education Statistics Agency. It studied the career choices of over 340,000 graduates, including 81,650 people with postgraduate degrees.
Postgraduates were represented well in the professional world, with over 85.5 per cent working full time or continuing their studies six months after graduating. The first degree graduates were less likely to be employed, with just 73.7 per cent in a full-time career.
Despite the significant gap in employment figures, academic advisors and careers experts believe that pursuing a postgraduate degree is no guarantee of a lucrative career.
Charlie Ball, the HESCU's deputy director of research, warns that despite the high employment rate for postgraduates, the organisation "doesn't want first degree graduates to think that doing a postgraduate qualification will get them a job."
Advisors recommend that students focus on concrete qualifications that give them a more marketable set of skills. Certain first degrees, such as an engineering degree or accounting degree in London, allow students to access a better job market.
Students interested in pursuing a graduate degree should research the best type of qualification for their industry, Mr Ball believes. "First degree students should think carefully … to make sure they don't waste the year by doing a qualification that won't improve their employability."
Instead of relying on university advisors, Mr Ball recommends that students speak to employers about the qualifications that they value the most. This allows them to better select a targeted, valuable qualification while building connections with the top employers within their industry.