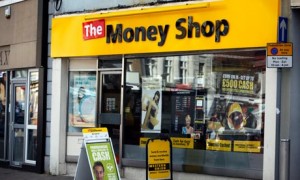 The payday lending industry, for several years the subject of negative press, hopes to repair its reputation. Payday lenders across the UK have been criticised by major newspapers, MPs, police forces, and recently, even the Archbishop of Canterbury.
Caroline Walton is the corporate affairs director for Dollar Financial UK, which is the owner of well-known pawnbroker chain The Money Shop. She believes that many of the payday lending industry's critics are using misleading language to paint payday lender as loan sharks.
"Our detractors are miscommunicating by calling this industry legal loan sharking," Ms Walton claims. The corporate affairs director recently allowed BBC journalists to enter The Money Shop, not as customers, but to observe what goes on behind the desk in one of the country's biggest payday lending operations.
Borrowers pay The Money Shop up to £29.99 to borrow £100 for a month. While the charges may seem high, Ms Walton believes that they're justified. She claims payday lenders face expenses and risk when dealing with customers: "you've got to invest in all the security, … train your staff, and yet £29 is seen as profiteering."
She also notes that legal payday lenders such as The Money Shop prevent customers from seeking illegal loans. If customers can't access finance through a legal lender, it becomes far more likely that they will turn to underground loan sharks, almost all of which are unregulated and illegal.
When customers turn to underground lenders, they face real threats against family members and friends. She believes that companies such as The Money Shop offer an important service for borrowers – one that's unfairly demonised because of public misinformation.
Despite the criticism, Ms Walton – and presumably, many like her – claim to sleep well at night, knowing that her company provides customers with a service that, if viewed unfavourably by the public, still prevents illegal loan sharks from causing real harm for borrowers.