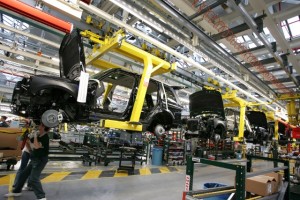 UK new car sales continued to increase in August, marking the 19th straight month of growth in the automotive industry. Total sales of new cars are up 10.9 percent in the last twelve months, indicating a long-term economic recovery for the industry.
65,937 cars were sold in August, beating expectations from most analysts. The cars were primarily purchased by private customers, although fleet purchases were also higher than in previous months.
The cars sold in August bring total sales figures for 2013 to over 1,391,000. Industry experts believe that buyers are motivated by new models with improved efficiency, affordable finance deals, and rebates from the PPI mis-selling controversy.
Analysts from the Society of Motor Manufacturers and Traders (SMMT) believe that total sales for the year could reach 2.2 million. The 2.2 million figure is supported by Moody's, which is optimistic regarding growth in the UK automotive industry.
The credit ratings firm was previously pessimistic about sales growth, believing that UK automotive sales would decline in 2013. Moody's has recently predicted a lower-than-normal output for several European automotive companies in the year's end.
Cars leading the automotive renaissance include the Ford Fiesta, which is the UK's bestselling car for 2013, and the Ford Focus, which has sold 57,129 models by the end of August. Other top sellers include the Volkswagen Golf and Vauxhall Corsa.
Demand for new cars is also strong in the United States and China. Chinese new car sales have grown substantially in the last year, increasing the total worldwide rate to 3.2 percent.
Moody's believes that the increased demand for cars will continue for the next year in the United Kingdom and China, resulting in a 4.8 percent global industry growth rate throughout 2013.
For Britain's top-selling automotive companies, as well as high-end car companies such as Jaguar Land Rover and Aston Martin, the increased demand for new cars is an excellent economic victory.