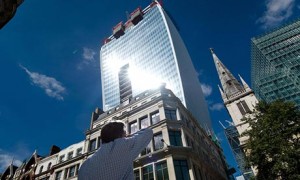 Motorists in London have complained that the latest addition to the city's iconic skyline – a 525-foot, £200 million skyscraper known as the 'Walkie Talkie' – has melted their cars.
The building, officially known as 20 Fenchurch Street, has an interesting warped shape and is covered in reflective glass. Motorists claim that the building's glass exterior has reflected ultra-hot light onto their vehicles, melting components.
Martin Lindsay was one of several London motorists to complain about the new building, claiming that the reflections from the building's windows warped some panels on his Jaguar XJ, which was parked opposite the building.
The motorist, who operates a tiling company in London, claims that the tower's reflection ruined his car's appearance and caused the smell of 'burning rubber' when he returned to the vehicle.
Other motorists have voiced similar complaints, including an air conditioning engineer who returned from appointments in the city to find that his Vauxhall Vevaro had been turned into a 'total mess' due to the strong sunlight.
The building's developers insist that they will be taking urgent action to stop any other vehicles from being damaged by the building. London locals claim that the large tower reflects blinding light that makes it difficult for pedestrians to see.
City workers have described the building as 'a huge lens' that reflects sunlight in several directions. Three parking areas have been temporarily closed in order to prevent further vehicle damage from occurring.
The building, which cost over £200 million to develop, will host a range of major corporate tenants including Royal Sun Alliance. The project is scheduled to open early next year as a leading office complex in the City of London.
Architect Rafael Vinoly claims that the building has been designed to 'respect the city's historic character' and contour around the Thames. The building's 'twisted' design has earned it the 'Walkie Talkie' nickname and made it a popular photo op for visitors to the city.