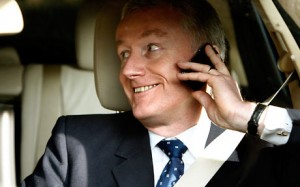 Infamous former Royal Bank of Scotland CEO Fred Goodwin has been blasted for his obsession with cleaning and minutiae in a new book documenting his leadership of Britain's most notorious bank.
The banker, who was once knighted for 'services to banking' in 2004, was obsessed with minor details of RBS's operation that were completely unrelated to its value as a business, a new book from Iain Martin claims.
Making it Happen: Fred Goodwin, RBS and the Men Who Blew Up the British Economy will hit bookstores next week, but stories are already leaking out from the book that claims to document the strangest activities of RBS's infamous former leader.
Mr Goodwin was reportedly so obsessed with minor details about the bank's image that he insisted on ordering the company's fleet of Mercedes S-Class company cars in the exact same shade of blue as the bank's logo.
He also reportedly grilled Mercedes sales representatives to ensure that the carpets of the vehicles were the same beige as those in the company's offices. The CEO's eye for detail extended far beyond vehicles, according to workers interviewed as part of the tell-all book.
Former RBS employees, almost all anonymous, claim that Mr Goodwin was upset at the design of the company's Christmas cards and insisted on taking control of basic office projects due to his personal objections.
He reportedly banned all flat-topped filing cabinets from RBS offices in an effort to reduce the piles of documents that would end up stacked on top of them. The CEO's attention to detail extended to the company's front steps, which were cleaned after his mother found a cigarette butt left on the steps of its Glasgow headquarters.
The infamous CEO, who was stripped of his knighthood last year after the extent of the bank's mismanagement, became a source of public ridicule after his lack of any formal financial management training was revealed during a hearing in the House of Commons.