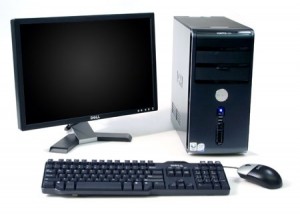 As notebooks and tablets replace desktop computing, PC sales are at their lowest level in recent history. The number of PCs being sold worldwide has decreased for the fifth quarter in a row as the industry enters what analysts believe is a serious decline in home computer sales.
The sales information, sourced by market research firm Gartner, indicates that the total number of home computer sales has dropped significantly since tablets and other low-cost computing options entered the market. Tablets are now the most popular computing choice in emerging markets, where budgets are very limited.
PC shipments declined by 11.4 percent over the last twelve months, a report from research company IDC claims. Despite the large drop in sales, IDC claimed that PC sales were still above its expectations, and that the industry could see some level of improvement in the coming months.
Home computer manufacturers have made serious efforts to reduce the cost of their devices over the past year, with many slashing profit margins in an effort to increase the total sales output and regain market share. Other manufacturers have invested in touch technology to make them computers more appealing to tablet buyers.
Despite this, the rapid increase in tablet sales – which now sell over 200,000 units per year, compared with just 125,000 one year ago – shows that the PC ecosystem may be fighting a losing battle. Tablets have benefited from lower price points and modern applications that make them an appealing deal for casual PC users.
Gartner analysts Mikako Kitagawa has claimed that while the numbers suggest that more customers are interested in tablets, a growing number of customers are using tablets to 'defer the purchase of a PC.' PCs and notebook computer still make up the bulk of enterprise hardware sales.